— DIRECTING —
"Sean Fredricks' 'Cannonball' … has scooped up a handful of awards and nominations at other festivals. Cannonball, which stars M.J. Brackin as an abused, 'type A' Brentwood wife and mom and Trevor Torseth as a tattooed, existentially minded hitman, sets up noir archetypes then cleverly implodes them in under 20 minutes."
— Bliss Bowen, The Argonaut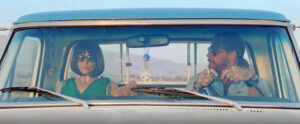 "Well-directed and brilliantly acted, "The Alchemist" draws modern audiences into its unwavering yet comical depiction of man's greed and subsequent vulnerability. By the end of the show, it is clear that the raw material of the alchemist's dark work does not concern the metal in his laboratory, but rather the timeless human weaknesses, which even modern audiences possess."
Natasha M. Platt, The Harvard Crimson

— ACTING —
Fredricks might be awarded the honors of the evening for his versatility and effortless energy. Fredricks's Matthew was persuasively compassionate, angry, deluded and heartfelt by turns, giving a well-considered performance replete with a depth of emotional complexity.
– Mildred Yuan, agent at United Agents UK, The Harvard Crimson
Gilead [directed by Scott Zigler] is marked by extremely good acting. Sean Fredricks turns in a convincing performance as Joe, an up-and-coming young blade who has found himself in over his head pushing for a ruthless syndicate. Joe's mood swings—guardedly tender one moment, ambitious another, and occasionally terrified—are earnest and comprehensible, and Fredricks does a commendable job portraying the complexities of a weak personality under stress."
– Patrick Blanchfield, The Harvard Crimson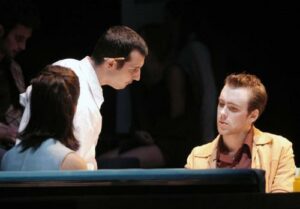 Another especially memorable performance is that of Fredricks' Cat Gotchatongue. Bedecked in glittering, flowing black and scarlet robes and with a face plastered with white makeup, Fredricks' silent acting is vivid and ridiculously histrionic, perfectly fitting the dramatic silent film music that accompanies his movements.
— April Wang, The Harvard Crimson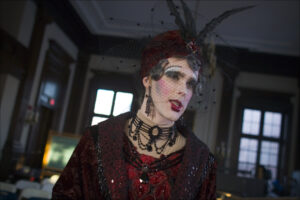 "In a stunning piece of improv by Ben Stiller at his Hasty Pudding roast, the actor played a manic Tom Cruise (is there any other kind?), giving a pep talk to a depressed Sean Fredricks."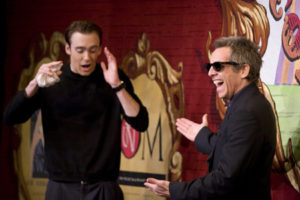 Stoppard's "A Separate Peace," the second play in the program, is a comedy centered on a mysterious man, John Brown (Sean R. Fredricks '07). Brown checks himself into a hospital, despite having nothing wrong with him except for a desire to escape from the rest of the world. Fredricks exuded a strong and likable presence. There were even a few moments when his exuberance and confidence threatened to overshadow the rest of the five-member ensemble.
— Erin W. Lin, The Harvard Crimson
With great commitment, Fredricks demonstrates [Duke] Orsino's shows of love…After the Duke proclaims that he and Viola will stay with Olivia…he gives her a loving hug. He then looks at her. Within this singular look, I could see all the love that he earnestly proclaimed for her, all the hurt he shouldered with her refusals to see him, all the heartache he feels in letting her go with Sebastian. His love is not sticky sweet with sentimentality; it is so overwhelming and all-encompassing that her happiness comes before his own. It is in this moment that I felt compelled into the play and its romantic ending, painful open wounds healing just beneath the surface."
— Roseanne Wells, "Always Loving the One You can't Have," PlayShakespeare.com